HAÏTI CHÉRIE
2010-11
In response to the devastating earthquake in Haiti on January 12, 2010, I made an intervention on the frozen, snow-covered Baltic Sea. A couple of weeks after the quake, dressed in a custom-made jumpsuit in the colors of the Haitian flag, I made snow angels as a symbol of my mourning, the lost lives, my solidarity and hope. This represents my feeling of helplessness and the pain that I can still feel. The intervention is installed as a video in the larger room at Kluuvi Gallery.
In the smaller room of the gallery space is a series of artworks and documents by my Haitian family, including photographs and a digitized Super-8 film taken by my parents on our 1984 arrival in Haiti. My mother, Monique Huber-Remponeau, has contributed a large painting,
Oh my God
, which portrays a group of Haitian women chanting after the earthquake. She completed this work during 2010–11 in Switzerland, where she has lived since the early 1970s.
I have also compiled a series of artworks by my grandfather, the artist Geo Remponeau (Port-au-Prince, 1916–). This consists of small original pencil drawings depicting Haitian people in their everyday lives, one oil painting, and a series of illustrated schoolbooks for Haitian schoolchildren from the late 1950s.
What is special about these school textbooks is that they have not always looked like this. Geo had noticed that in the older edition of the schoolbook the illustrations showed only white children. He had approached the publisher with a proposal to remake the illustrations to represent the people in their local context. He thought this would help the children to identify more closely with the book. My grandfather, a self-taught artist, was one of the founders of the Centre D'Art in Port-au-Prince in 1944, and helped train many artists. In 1965, he and his family emigrated from the Haitian dictatorship to New York, to give his children a better future.
The name of the video and exhibition,
Haïti Chérie
(
My Dear Haiti
), was inspired by the traditional creole song written and composed by Dr. Othello Bayard de Cayes, which expresses Haitian people's pride in their country and culture. The Haitian community regards it as their second national anthem.
I heard this song as a child, while visiting my family in Haiti.
Since January 2010, I have been making
Haiti Solidarity ribbons
to give to family and friends who care about Haiti. These ribbons will be available as gifts throughout the exhibition period.
Special thank you: Finnish Academy of Fine Arts / Mirka Markström (assistance), Oliver Blank (sound/music), Nancy Choy (costume), Mike Garner (proofreading English), Helsinki Art Museum, Monique Huber-Remponeau, Petri Hytönen, Taava Koskinen (proofreading Finnish), Lönnberg Print,
Geo Remponeau, Petri Saarikko (camera), Fernando Teixeira (post production), Eetu Vihervaara (edit), Maija Virtanen (requisite).
Exhibition photography by Niklas Ekman.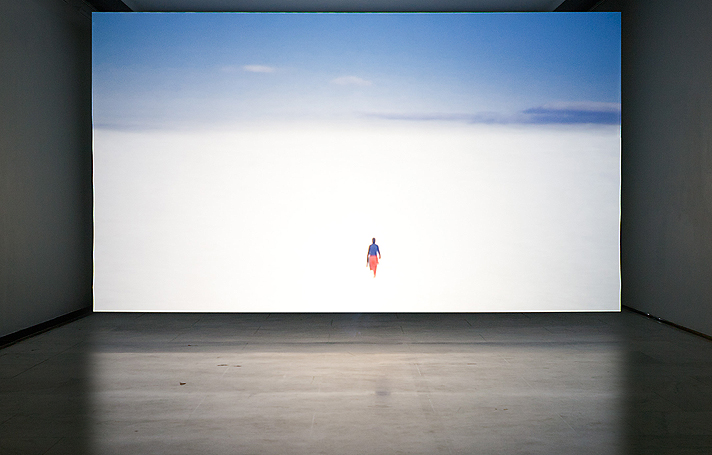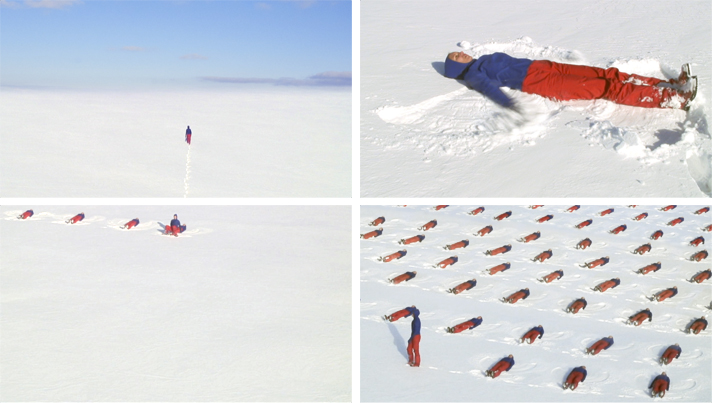 Haiti Cherie. 2010-11.
Video installation, 6:10 min.
View video
here
.
The Huber family arriving to Haiti, 1984.
Digitized super-8 film Courtesy of the Huber Family, private archive.
I am the smaller of the two girls exiting the air craft.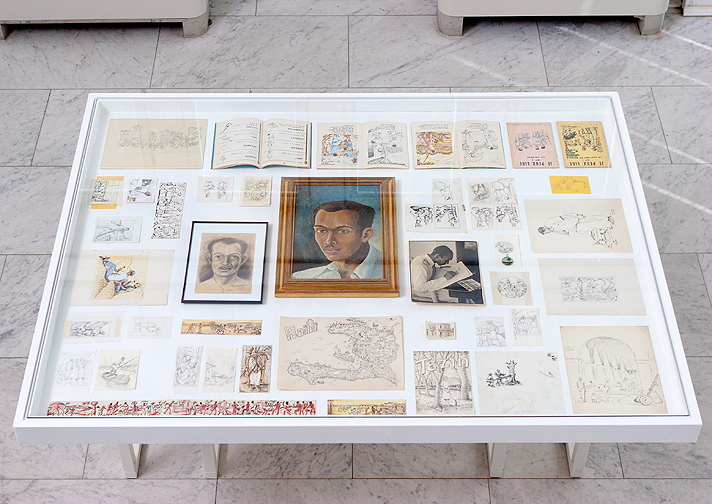 Georges Remponeau, (Port-au-Prince, 1916–2012).
Various drawings, sketches, artworks, photographs and illustrated school journals.
Courtesy of Georges Remponeau, private archive.