THE FIRSTS - ROSA EMILIA CLAY
2017
The new series in progress
The Firsts
, researches historical and systematic racism and its debilitating effects on members of the contemporary African Diaspora, with a focus on women being moreover underrepresented throughout history. The suppression put upon this community has hindered equitable societal and economic developments, which are linked directly to White supremacist thought and action. The Firsts suggest that this hindrance is the reason why today it can still be possible to be the 'first black person' to achieve specific goals across many fields of practice and countries. Some individuals have courageously paved the way for future civil right actions still to come, and institutionalized racism and prejudice in its execution within the western paradigm has been successful in holding people back, or their achievements have not received the deserved recognition and acknowledgment.
The Firsts
is also dedicated to first persons from the African Diaspora that have migrated to various European countries in the 19th and 20th century. The first portrait is made of teacher Rosa Emilia Clay (1875-1959). She ended up in Finland in 1888 with a family of missionaries, like many children brought from Ambomaa (now Namibia). In 1899 she became the first person from the African continent to be granted Finnish citizenship. Due to racism and differential treatment, Clay decided to move to the United States in 1904, where she was an active director of the American Community Choir and Theater, a teacher of the Finnish language and an active cultural activist of the labor movement after moving to the United States in 1904. In December 2020 the Tampere city in Finland announced to rename a prominent central square in honor of Rosa Emilia Clay.
More information about Rosa Emilia Clay by Anna Rastas:
here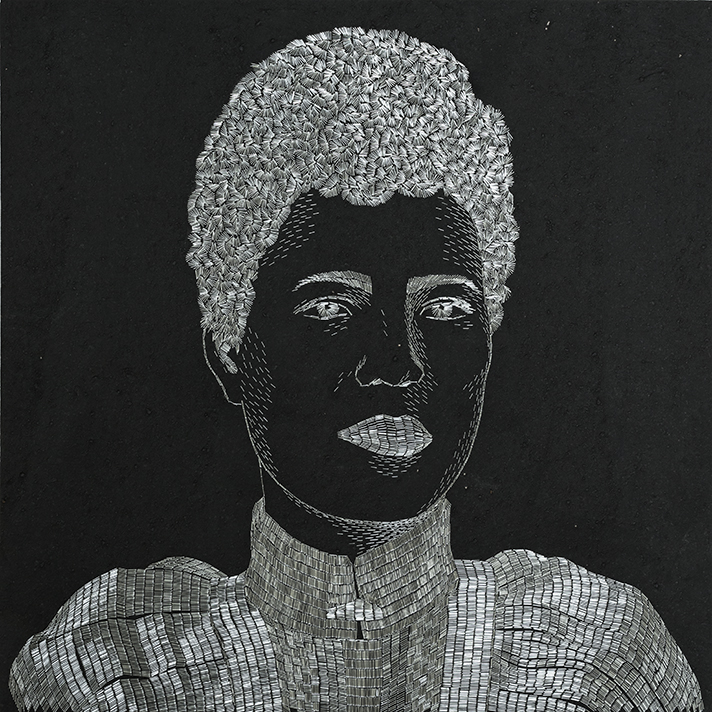 Sasha Huber, The Firsts - Rosa Emilia Clay
Metal staples on black painted acoustic board, 100 x 100 cm
2017. Private collection.