SPACE RACE
2018
Turku Art Museum
, Studio 1 June – 26 August 2018
Press preview: Thursday 31 May 2018 1 pm at Turku Art Museum
Opening: Thursday 31 May from 18–20. The artist will be present on both occasions. Welcome!
Sasha Huber creates art to save the future from historical burdens. Art that cares and asks us to pay attention. Art that speculates on new possibilities, and is made in the spirit of decolonial and afro-futurist pioneers: James Baldwin, Nina Simone, Octavia Butler, Sun Ra. Huber defends the dead, particularly those lives caught in the wreckage and silence of slavery and colonialism. She delicately enters archives, enters formerly colonised communities, and enters her own biography, all to explore what actions it might take to repair inherited damages and heal.
Space Race
is a meditation on the ways racist histories affect the present and the future through naming practices in space. The audience is invited to explore the artist's efforts to rethink and revise how the 19th century Swiss glaciologist Louis Agassiz (1803-1873), has been memorialised on Earth, the Moon and Mars. Agassiz's "science" had racist dimensions. He believed that human beings were split into "races" with separate origins, and that people of African descent in particular were less than human. He also promoted the idea of racial hygiene, and strongly disapproved of racial mixture. There are over 80 sites named after Louis Agassiz, in addition to seven animal species. For over a decade Huber's work has been a critical aspect of the Demounting Louis Agassiz, campaign, initiated by historian and political activist Hans Fässler, which has been petitioning to rename Agassizhorn in the Swiss Alps. The Space Race exhibition thus asks us to reconsider "What is in a name"? Who and what do we evoke by this naming? Does the naming of sites in space (beyond human reach) represent another kind of colonisation?
The central piece in the exhibition,
Space Race
(2018) is a mesmerising new video work that transports the audience to Mars and the Moon, through 3D visualisation. Planetary entities are brought up close and personal, and we are allowed to visit the exact spots named after Agassiz - the ridges and dust haunted by Earth's dark histories. Facing this cosmic colonisation, where racist values are bound through naming to the surface of celestial bodies, we are caught in the complex web of human time/logic. The video is further materialised by two new sculptural artworks representing each celestial "Agassiz" wound. The rest of the exhibition contains a selection of works that reveal the outcomes of Huber's artistic journeys around the world, where she explores the potential of performance, direct action, and ritual for de-linking from painful histories.
Sasha Huber (b. 1975) is an internationally working visual artist and doctoral candidate born in Zurich. She lives and works in Helsinki. Sensitive to the subtle threads connecting history and the present, she works with photography, video, texts, and sculptural stapled images uniquely made with a compressed-air staple gun. Huber also works in a creative partnership with visual artist Petri Saarikko, founder and director, Kallio Kunsthalle, Helsinki and Wellington.
The presentation text is written by Dr Temi Odumosu, School of Arts and Communication, Malmö University.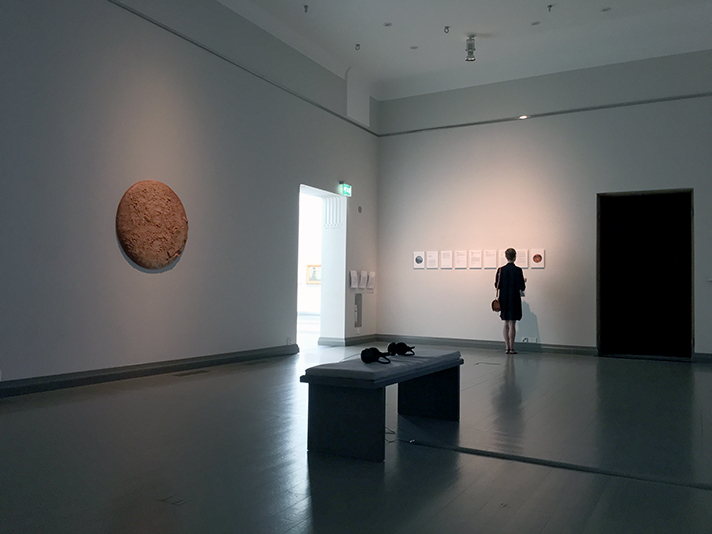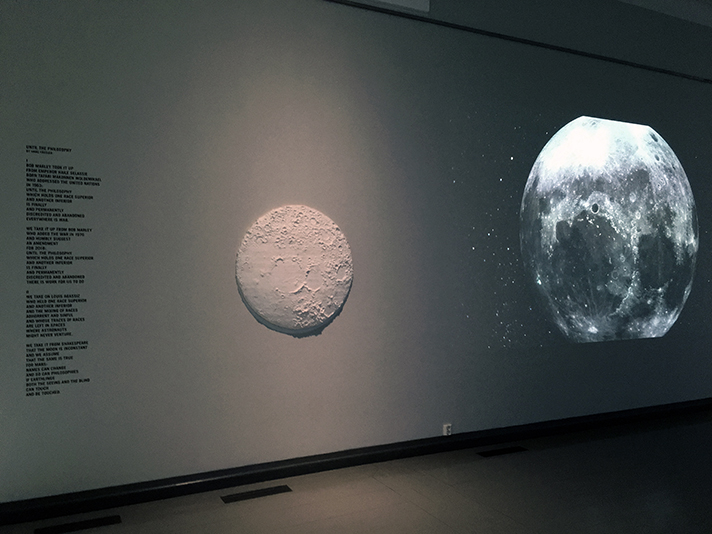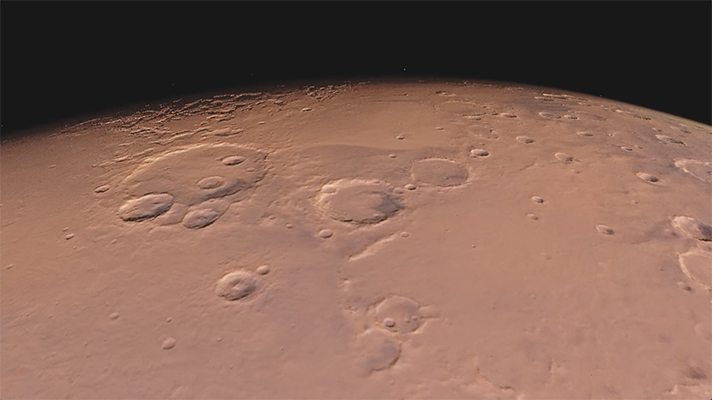 Space Race
, video 4:40 min, 2018