TAILORING FREEDOM
2021
Tailoring Freedom
marries Sasha Huber's stapling method and photography for the first time. In the original Joseph T. Zealy (1812–1893) daguerreotypes of Renty and his daughter, Delia, the two are unclothed, dehumanized, and stripped of dignity. Louis Agassiz's son, Alexander, donated these so-called Slave Daguerreotypes to the Peabody Museum of Archeology and Ethnography at Harvard University, where Agassiz was a professor and Founding Director of the Museum of Comparative Zoology. To reclaim their freedom, which was never granted during their lifetimes, Tamara Lanier, the great-great-great granddaughter of Renty, filed a lawsuit against Harvard University to repatriate the daguerreotypes of her ancestors held in their collection.
Rolex Replica
Using art to heal colonial traumas, Huber reproduced and printed the photographs on wood, dressed Renty in a suit inspired by a suit by Frederick Douglass (1818–1895), and Delia in a dress inspired by a dress by Harriet Tubman (1849–1913). In this work the artist used her stapling method to symbolically heal wounds while honouring the contributions of Douglass and Tubman (both abolitionists). Huber gifted these portraits to Tamara Lanier and her family.
Tailoring Freedom
joins the solo exhibition would tour
YOU NAME IT
at The Power Plant Contemporary Art Gallery in Toronto from February, 4th - May, 1st 2022. The tour started at the
Kunstinstituut Melly
in Rotterdam from April, 9th - September, 21 2021 and continues after Toronto to
Autograph
in London in November 2022 and Turku Art Museum in Finland in 2023.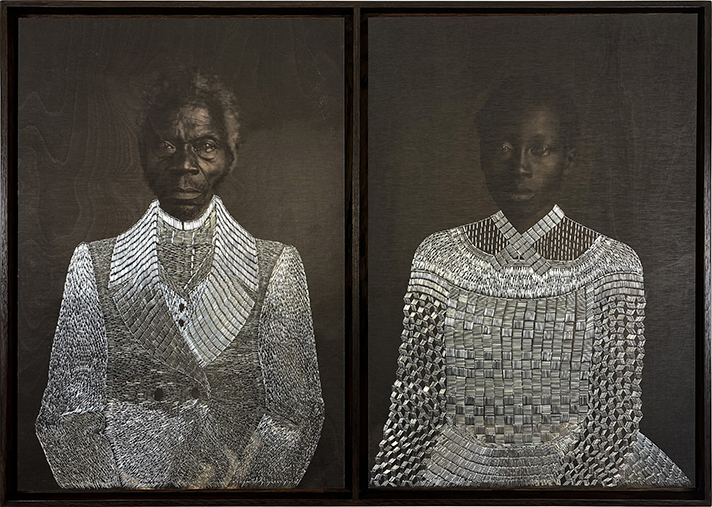 Sasha Huber, Tailoring Freedom, 2021
Metal staples on photograph on wood, 97 x 69 cm
Courtesy the artist and Tamara Lanier